Email Management Solutions
See what the power of email customization can do for your business.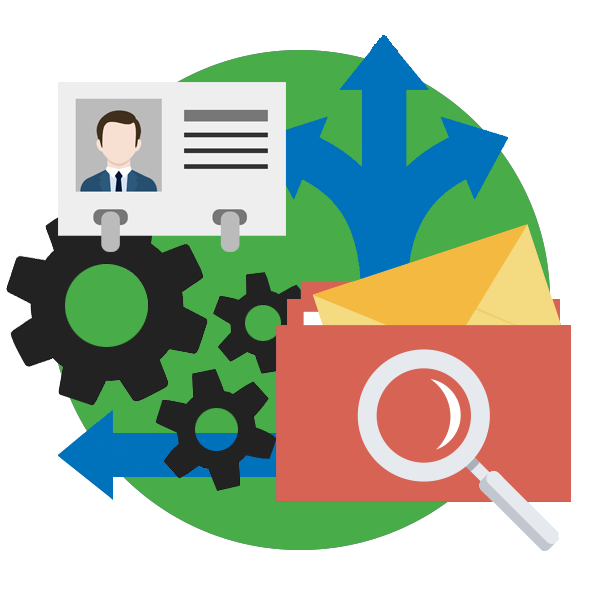 Email That Really Works
Email Routing and Email Relaying are invaluable email management solutions that are often overlooked. If you have an email challenge that you have been unable to resolve to your satisfaction, Message Routing and/or SMTP Relaying may be the solution you've been looking for.
Using a custom email solution can help your business solve quite a few obstacles. Common objectives include:
Reduce time spent sorting emails
Copy or redirect emails to the appropriate person or department based on a variety of factors
Meet data security and compliance standards
Seamlessly integrate multiple mail servers or other complex email configurations
Enforce both departmental and company-wide outbound compliance policies
Resolve bouncebacks and other delivery issues for outbound messages
Send messages to multiple locations
Many of our clients were told by other providers that the type of messaging solution they needed did not exist. Webservio's skilled engineering team is able to achieve what many email hosts deem 'impossible.' Schedule a free phone consultation today to discuss the email management challenges of your organization, and see how our Message Routing and Message Relaying services can work for you!
Custom Email Routing
Webservio's Email Routing services will deliver messages for the same domain to multiple mail servers or recipients based on customized rule sets. This type of functionality allows you to take control of your company's email and direct messages to the appropriate department or person.
Inbound Email Organization
Email Routing helps an organization keep track of important emails and allows for managerial oversight. For example, you could have a copy of all emails addressed to sales associates also be delivered to sales@yourdomain.com.
Routing solutions are also highly effective at organizing large volumes of emails to ensure important messages are not overlooked. For example, a domain rule could make sure that all emails from priorityclient.com are copied to the assigned account representative.
Policy-Based Compliance and Security
Email Routing can be used in conjunction with email archiving and inbound or outbound encryption as part of your company's data security and compliance measures. Policy-based email signatures or disclaimers can also be added. Different versions can be used depending on the sender, recipient, time of day, month, or other conditions. These types of customized email solutions can really give your business a competitive edge.
Automate Data Entry and Reporting
Email Routing with Artificial Intelligence can be used to parse email information into external applications and programs via API. This means your CRM and reporting apps can be populated with information from your emails automatically. Reduce data entry errors and optimize managerial reporting functions.
Let's Have a Conversation
Speak with an expert Message Routing consultant, contact us or schedule a free phone consultation today.
SMTP Email Relaying
Webservio's Email Relaying services can ensure critical message delivery and provide a way to enforce email policy compliance within your organization. A relaying service can also be used to circumvent mail server reputation issues or manage delivery of emails to a large number of recipients.
Ensure Delivery of Important Emails
Your business can't afford delivery problems with important emails like invoices, reservation bookings, and service tickets. In addition, messages sent as part of a digital marketing campaign are more likely to be labeled as spam. Your mail server's IP address could be blacklisted, leading to email delivery delays and failures. Sending to large email lists through your primary mail server can also delay the delivery of more time-critical messages.
Using a separate relaying system for automated emails safeguards the reputation of your primary mail server and ensures timely message delivery. Webservio's Message Relaying service gives you full control over server and DNS settings to maximize the delivery of important information.
Circumvent IP Reputation Issues
If your organization is using shared email hosting, you are probably using the same IP address as other accounts on the server. This configuration means that your email delivery could be negatively affected by the actions of others on the server despite your company's best efforts to maintain secure and compliant email policies. With Webservio's Message Relaying service, you can send messages through an alternate mail server dedicated to your organization's use.
Enforce Compliance Policies and Email Encryption
An Email Relaying service can alos be used to enforce outgoing email compliance policies and/or encryption across the whole organization or certain sub-sets of employees. Better yet, the rules are applied no matter what email client or device is used. This configuration gives you peace of mind that all policies are being met, while giving your employees the flexibility to use their laptop or mobile device in addition to their usual desktop computer.
Let's Get Started
If you would like to learn more about Webservio's Message Relaying solutions, contact us or schedule a phone consultation today.
Hybrid Email
Do your email users have different needs? If so, Webservio's Hybrid Email is the best way to provide them with the proper messaging environment while saving money! Give some users the powerful features of Microsoft Exchange, Office 365, or G Suite while others utilize Webservio's Stratamail, a more cost-effective and secure VPS-based email system. Unlike with other hybrid solutions, users on all systems can continue using the same domain!
Best of Both Worlds
Hosted Exchange, Office 365, and G Suite provide enterprise-level functionality for end-users. Your employees can work with one another in a collaborative environment using shared calendars, global address lists, tasks, and notes.
Webservio's StrataMail provides a secure, VPS-based environment with all the features a typical email user needs, including spam/virus filtering, webmail, online calendar and contacts, along with POP and IMAP capabilities.
Seamless Flexibility
Webservio's Hybrid Email gives you the flexibility to choose the options that make sense for your business. For example, you could continue to use an in-house Exchange server for corporate accounts, utilize Office 365 for outside sales reps, and provide Webservio's Stratamail to other employees. Use multiple domains if you wish, keep all users under the same domain name, or have several domains with users on each spread across multiple mail servers. The high-powered features of Webservio's Routing systems allow you to decide what works best for your organization.
Immediate Cost Savings
No matter what type of configuration you choose, Webservio's Hybrid Email with Email Routing is likely to provide a considerable cost savings compared to the cost of keeping all users on your in-house Exchange, or moving all users to a cloud solution.
Customizable Message Routing
In addition to all its other benefits, Webservio's Hybrid Email includes Email Routing. Routing allows you to take control of your company's email and direct messages to the appropriate department or person based on the sender, recipient, or domain.
Let's Get Started
If you would like to learn more about Webservio's Hybrid Email solutions, contact us or schedule a phone consultation today.