Message Routing with Artificial Intelligence
Advanced email management that can handle your most complex challenges.
Intelligent Email Automation
Deliver emails for the same domain to different mail servers or recipients based on highly customizable rule sets. This capability gives you full control over your company's email to redirect messages to the appropriate department or person, automate data entry by parsing email content into other programs or applications, or automatically add signatures for different marketing campaings based on time of day, and much more.
Reliable System
Message Routing with AI systems can include multiple nodes in geographically diverse locations for maximum efficiency and reliability.
Customizable
Work with our email specialists to create simple or complex nested custom routing settings to achieve your email management objectives.
Additional Options
Improve security and compliance by using Message Routing with AI to encrypt or archive certain types of emails. Automate signatures for marketing campaigns or automate data entry using email parsing capabilities.
How Does Message Routing with AI Work?
Typically, incoming emails go through a spam filtering service, and all clean emails are sent to the mail server. Message routing with AI goes beyond spam filtering and lets you copy or redirect emails based on customized rules. The routing rules can be based on the sender, recipient, or many other advanced parameters. With intelligent message routing, an email can be sent to the original recipient and carbon copied to additional recipient(s), or it can be redirected to a completely different destination. Artificial intelligence may also be used to automate signatures for outgoing messages or automate data entry by parsing email information into other programs or applications.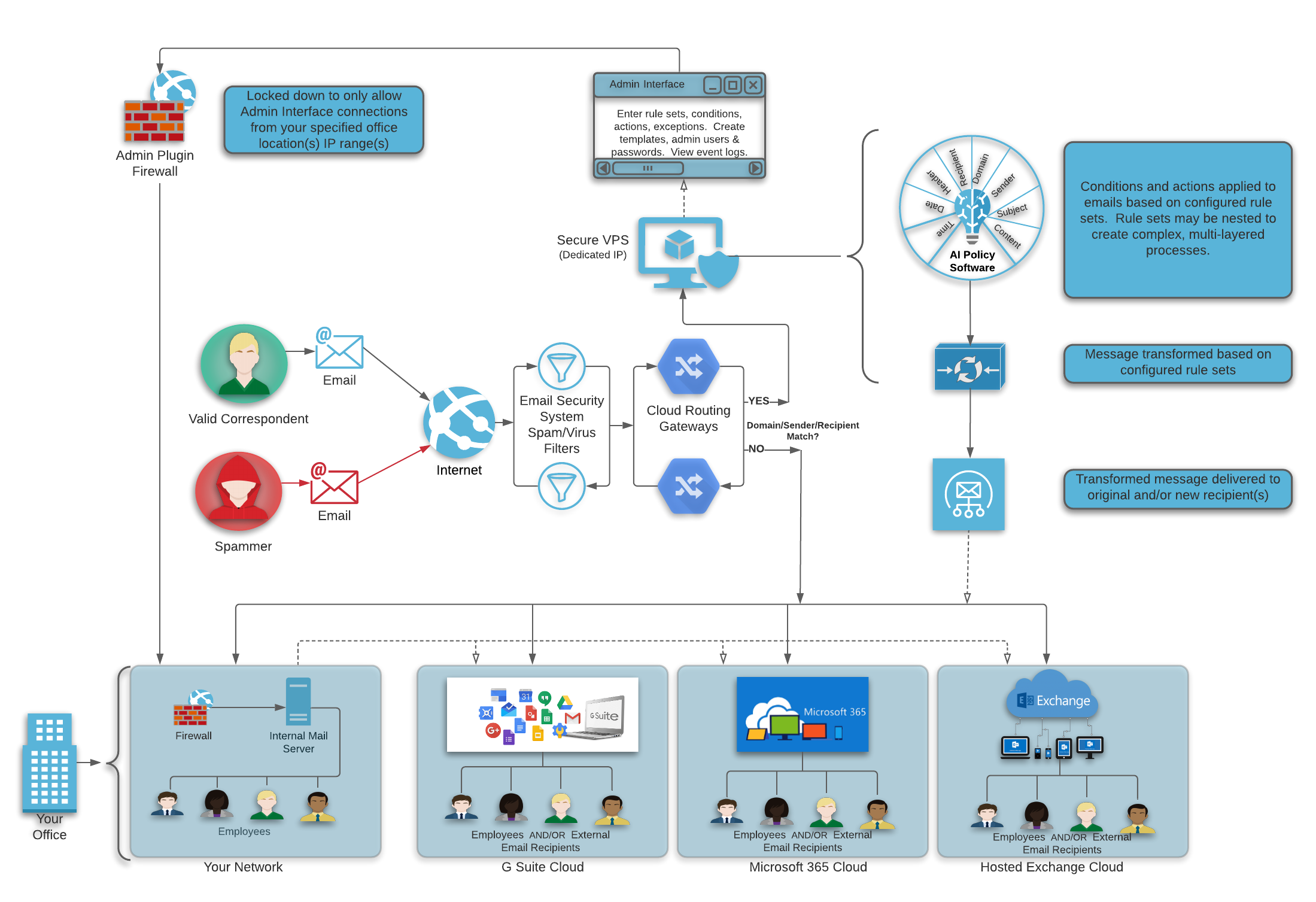 Benefits of Message Routing with Artificial Intelligence
Streamline your email and improve organizational efficiency.
Eliminate Confusion and Tedious Email Sorting
Message Routing is highly effective to organize large volumes of emails and keep track of what's important. Instead of having a complex structure of aliases and role-based accounts, your company can use Message Routing with AI to make sure the right emails get to the right people. Routing can also redirect automated emails or bouncebacks to prevent inbox clutter.
Automate data entry with Email Parsing
Parse information from specific emails and plug it into other applications and programs with API. Use Message Routing with AI to populate your CRM, spreadsheets, reports, and more.
Using Webservio's Message Routing with AI for email organization and data entry saves valuable time that would have otherwise been spent sorting messages and manually keying data. In addition, important messages are not be overlooked and data entry errors are reduced.
Simplify Oversight and Collaboration
Custom email filters can copy messages to managers or teams so that everyone is kept in the loop. In a busy organization, it's important for everyone to be on the same page with accurate information. Using role-based accounts or expecting everyone to remember who to CC is an inefficient method, sometimes resulting in overlooked messages or an embarassing situation when the wrong person is included in the message thread. Inbound and outbound emails can be copied to teams or managers and custom signatures can be added using a variety of conditions. Instead of having an inbox flooded with unnecessary emails from multiple accounts, you can quickly see what's important and keep abreast of various team projects.
Ensure Everyone is Using the Correct Signature at the Right Time
Are you preparing important email marketing campaigns? Make sure your campaigns have the biggest impact by applying custom signatures to your employees' outbound emails for the duration of the campaign. Signatures may be modified based on date, time of day, subject, recipient, and/or sender.
Message Routing with AI is a powerful tool that can change the way your company uses email.
Policy-Based Archiving & Encryption
Message Routing with AI can also be used to facilitate email security, compliance, and data management. Use Message Routing in conjunction with Message Archiving to ensure that copies of all or just specific types of messages are saved in a separate archive location. Choose whether you archive inbound and/or outbound emails. An email archive is invaluable for legal hold, eDiscovery, compliance, disaster recovery, and more. Using Message Routing rules to only archive important emails can significantly reduce the amount of space required, which in turn reduces cost and search time.
Encrypt specified messages and send them to a separate email system with more advanced security measures. You can also automatically encrypt outbound messages sent by your employees. Encryption reduces business risk and liability by protecting your clients, employees, and trade secrets.
Easy Configuration with Your Existing Network
There's no need to purchase new equipment or alter your existing network infrastructure to utilize Message Routing with AI. The Message Routing with AI service works with any type of mail server or network configuration. It can be used with your existing email security service, and complex configurations with multiple mail servers or domains are not a problem.
A Webservio consultant will work with you throughout the configuration process to coordinate with engineering. Our team will create the correct rulesets to achieve your company's email management objectives.
Message Routing Rules
Webservio's email routing service is highly customizable. Each rule can include multiple parameters using AND/OR logic. The action is applied to messages that meet the criteria.
Basic Parameters
Email address of sender or recipient
Domain of sender or recipient
IP address of sending mail server
HELO of sending mail server
Date and time (specified or range)
Day of the week or month (specified or range)
Advanced Parameters
Email header information
Keywords in email subject
Keywords in email body
LDAP group of sender or recipient
Basic Actions
Copy email and send to other email address(es)
Redirect email to a different email address
Redirect email to a different mail server
Delete email
Advanced Actions
Modify email header
Copy email to an archive system
Encrypt email
Add disclaimer
Add email signature
Add or remove attachments
Parse email content and/or attributes into a file or script (can be used to interface with APIs of external systems)
Message Routing with Artificial Intelligence Features
Customized Routing Rules
Create custom email routing rules based on a variety of parameters. Multiple parameters can be applied for each rule. Rules may be nested to accommodate complex message routing needs.
Inbound and Outbound
Choose whether Message Routing is applied to inbound and/or outbound emails.
Duplicate or Redirect
Send a copy of the email to additional recipients or redirect the message to an entirely different email/mail server.
Email Parsing
Parse email content and/or attributes into a file or script that can be used to interface with API's of existing external programs or applications.
Email Encryption
SSL certificates available to ensure outbound emails are encrypted with TLS. More advanced encryption options are also available.
Archiving
Emails can be copied to a separate archive system based on custom policies.
Multiple Routing System Nodes with Replication
Multiple routing systems in diverse geographical locations may be configured to provide maximum uptime and reliability.
Delivery Queue
If the recipient mail server is not available, messages will be queued and delivery retried on a set schedule.
Administrative Dashboard
Simple dedicated administrative interface to create users, rulesets, view log files in real time, and more. Keep your Message Routing with AI system more secure by allowing connections only from your business IP addresses.