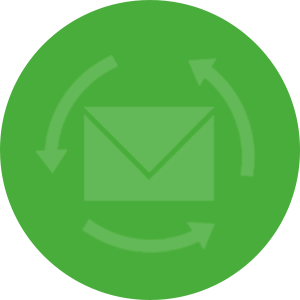 Custom Email Solutions
For most businesses, nothing gets done without email. At Webservio, we understand how critical it is to have reliable email communications. Our email solutions combine hosting, email security, and failover. Email continuity, archiving, encryption, and/or routing can be added for a full-featured solution customized for the way you use email.
Our team of technical engineers and consultants have years of experience designing custom email solutions. If you have repeatedly heard that your ideal scenario cannot be done or is too complex, then you've come to the right place.
We are able to use email routing services to streamline email management, create hybrid email solutions with multiple mail servers, and ensure a failover system is in place for all of these moving parts. Our team is used to dealing with international and enterprise-level organizations with complicated email infrastructures. Schedule a consultation today to get started!
Microsoft Office 365 is a cloud-based productivity and collaboration suite. Leverage the power of tools like SharePoint and Lync for project management and collaboration. Access and edit files from anywhere with OneDrive and Microsoft Office online. Plus get highly available email service synced across all your devices and much more!
Hosted Exchange allows you to leverage the power of Microsoft Exchange Server without the tedious maintenance that comes with maintaining an in-house mail server. Our highly reliable systems provide 99.999% uptime along with many add-ons and configurations, including integration with SharePoint and Lync 2013 collaboration software.
Webservio's VPS mail servers provide a high degree of security and reliability at an affordable price. Combine this service with any of our other custom email options for a robust email management solution.
Webservio's shared email hosting is ideal for small business or personal email users. Like our other options, it includes spam filtering and email failover along with firewall protection. It can be bundled with our Premium Shared web hosting for a complete hosting solution.
With the rise of spamming and phishing, email security is essential to protect your mail server and office network from viruses, malware, trojans, data mining, and other threats. Webservio has partnered with industry-leaders to provide you with the best solutions available for email filtering, data loss prevention (DLP), encryption, and archiving.
Having a plan for email disaster recovery is a critical part of business continuity. Webservio's Message Continuity and Mail Bagging services will manage all the email sent and received by your employees during downtime of your primary mail server. When your server is restored, it will receive a history of all correspondence without your business missing a beat.