Email Routing Services
Master your email with automated message redirection and organization.
What Is Email Routing?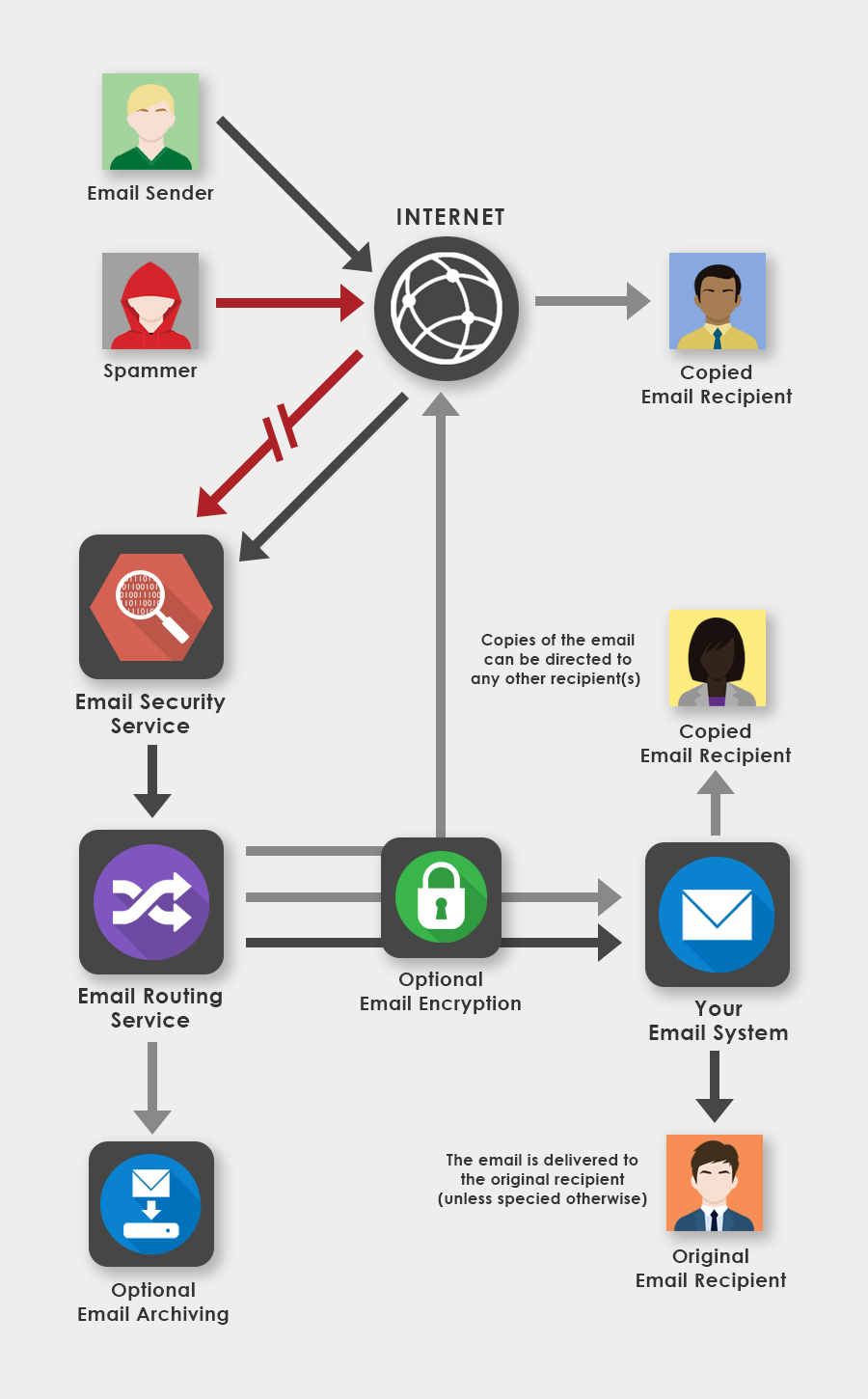 Traditionally, incoming emails go through spam filtering gateways, and all clean messages are then sent to the destination mail server. Mail routing goes a step beyond spam filtering to make a carbon copy of specified emails based on rules and send this copy to additional recipient(s). The rules for the carbon copy generation can be based on the sender, recipient, or many other parameters. Messages are still delivered to the original recipient, or they can be redirected to a completely different destination.
Why Would I Need Email Routing?
Mail routing helps an organization keep track of important emails and make sure that the right people are kept in the loop. It has many different applications, including:
Email organization
Oversight and audits
Message archiving
Data protection
Server migration
Used correctly, email routing can give your business a competitive edge by achieving higher levels of efficiency and organization.
Ways to Use Email Routing See how this service can improve the way you work
Organize Large Volumes of Email
Mail routing helps you take control of your company's email and direct messages to the appropriate department or person. For example, content policies can separate or delete automated emails and bouncebacks so that important messages are not overlooked.
Combined with Webservio's IzzyMail email hosting service, messages can even be organized into specific folders within each email account. This feature alone could save hours of employees' time sorting through their inbox. In addition, these folders can be accessed from any computer or device using that account.
Unite Teams and Improve Customer Satisfaction
Use email routing to keep everyone in the loop. For example, subject line keywords can be used to copy of certain types of emails to everyone on the team or select subgroups. This method is much better than remembering to CC all members and can be applied to inbound or outbound messages.
Equip your account managers to provide top notch customer service by making them aware of all activity by their assigned clients. For example, domain name routing could copy all emails from priorityclient.com to the assigned account manager. This would alert the account rep if their client had a billing question or support issue, allowing them to make sure the matter is resolved, identify upsell opportunities, or get client feedback.
Facilitate Oversight & Accountability
Email routing can be a tool for managers to monitor department-wide activity without being flooded by repetitive automated emails. For example, you could send a copy of all emails addressed to sales associates to a catch-all account like sales@yourdomain.com. Alternately, custom rules could be used to only copy certain types of emails.
Protect and Store Critical Emails
Mail routing allows your organization to correctly manage emails that may contain sensitive informaiton. Content filtering can automatically encrypt emails with account numbers or other personal information. In addition, these emails could be redirected to a separate email system with additional security controls.
Email routing can also facilitate customized email archiving. Copy all inbound and outbound emails to a separate archive system. Or use custom rules to only archive specific types of emails.
Email Routing Services Webservio has a variety of mail routing solutions to give your business the features and capabilities it needs.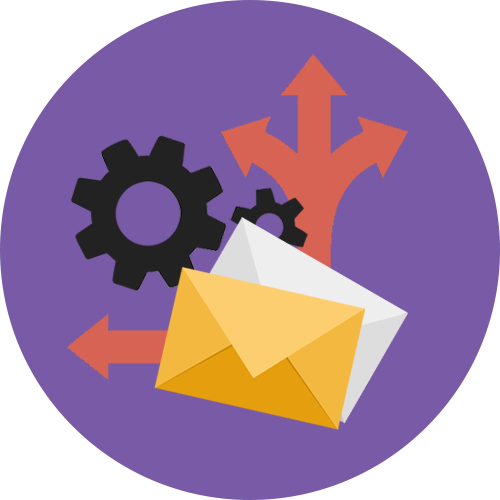 Message Routing
Webservio's Message Routing system provides greater flexibility than other mail routing options. This service can work with your existing email configuration, including complex situations with multiple mail servers or domains. Use it to manage inbound and outbound email delivery across your organization. The Message Routing service can also include custom archiving, encryption, disclaimers, autoresponders, and email signatures.
More About Message Routing
Other Routing Services
Many of Webservio's email solutions combine multiple functions into one integrated system. The following services are used primarily for email hosting, security, and collaboration, but they also provide varying degrees of email routing.
If you are already using one of the solutions below, Webservio offers consultation services to assist with email routing configurations. You can opt to do this as a one-time project with no need to switch providers. Or utilize migration services to transfer your account to Webservio for ongoing support and consultation.
Take the Next Step
If you have some questions or you're not sure which email routing solution will be the best fit, chat with one of our experienced consultants about your particular scenario.
Schedule a Free Consultation